Sarthak: A Young Legal Luminary's Remarkable Journey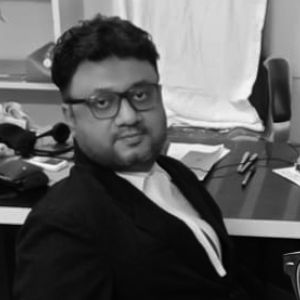 Emergence in a Small Town
In the year 2008, Sarthak Choudhury embarked on his legal journey from the quaint town of Dhanbad, situated in the heart of Jharkhand.
Armed with ambition and a relentless pursuit of excellence, he took his first steps into the world of law.
Over the course of the last 14 years, Sarthak's trajectory in the legal field has been nothing short of remarkable.
What began as a modest practice in Dhanbad has blossomed into a far-reaching legal enterprise that has left an indelible mark on the Indian legal landscape.
With a wealth of experience gained from handling numerous cases, Sarthak boasts an impressive record of successful outcomes.
His keen legal strategies, attention to detail, and unwavering commitment to justice have solidified his reputation as a formidable force in the legal arena.
A Multifaceted Legal Expertise
Sarthak Choudhury's insatiable thirst for knowledge has led him to explore various legal domains, ranging from criminal law to intellectual property and corporate law. His dedication to mastering these intricate facets of the legal realm has honed his expertise and propelled him to the forefront of legal practitioners.
Spreading Across the Nation
Sarthak's visionary leadership and unwavering commitment have spurred the establishment of strongholds in key cities across India. From Mumbai to Kolkata, Ranchi to Delhi, his legal empire has expanded, reflecting his ability to build and nurture talented legal teams.
Cultivating Excellence in Delhi
At the heart of India's capital, Sarthak Choudhury has assembled a powerhouse legal team that mirrors his passion and dedication.
His role as a mentor and guide has not only elevated his stature but also enriched the legal profession with a new generation of skilled legal minds. Sarthak's journey is a testament to his unrelenting determination, resilience, and dedication to justice.
From his humble beginnings in a small town to his current position as a legal luminary, his story serves as an inspiration to aspiring lawyers and professionals alike.
Pioneering Legal Excellence
As Sarthak Choudhury continues to steer his legal enterprise toward greater horizons, his odyssey stands as a beacon of hope for those who seek to combine passion with profession.
His legacy is etched in the annals of Indian law, a testament to the transformative power of unwavering commitment and unyielding pursuit of excellence.