In the labyrinth of legal codes, Section 120 of the Indian Penal Code (IPC) stands as a significant provision dealing with the act of concealing a design to commit an offence punishable with imprisonment, whether or not the offence is eventually committed.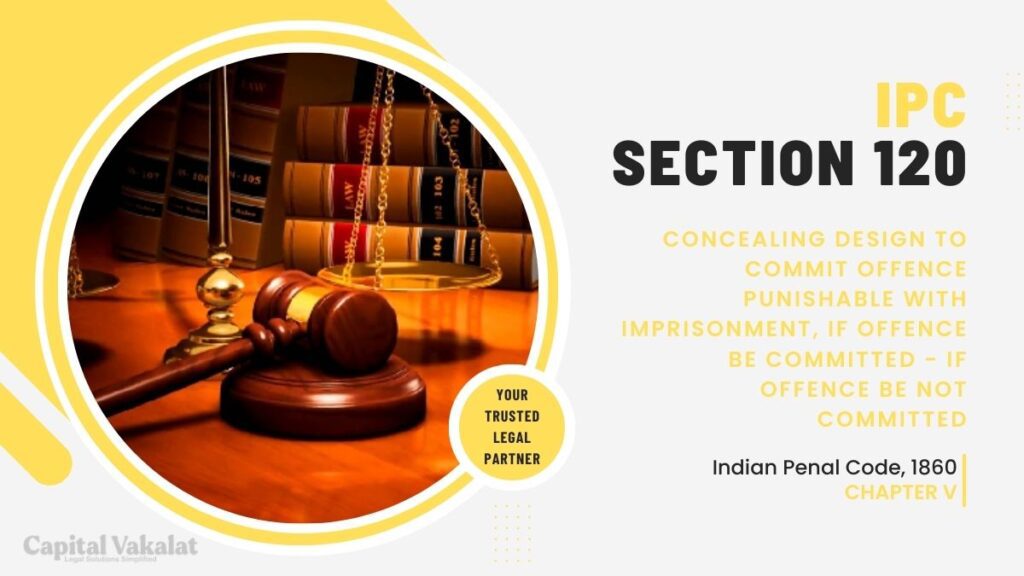 This article delves into the intricacies of Section 120 IPC, shedding light on its implications and the legal consequences associated with it.
Understanding Section 120 IPC
The Genesis of Section 120
Section 120 of the IPC was incorporated to address the issue of individuals or groups conspiring to commit a crime, punishable by imprisonment, and taking steps to conceal their unlawful intentions.
The Act of Concealing Design
This section primarily deals with the act of concealing a criminal design. It is pertinent to note that concealing the design to commit an offence is an offence in itself.
Punishment for Concealing Design
Section 120 IPC stipulates punishment for those who conceal their design to commit an offence, even if the said offence is never committed. This makes it crucial in preventing criminal conspiracies from materializing.
Key Elements of Section 120 IPC
Design to Commit Offence
The section focuses on the design or intention to commit a specific offence that is punishable with imprisonment.
Concealment of Such Design
Concealment implies taking steps to hide or keep the criminal design secret. This might involve covert communication or any actions aimed at preventing the authorities from discovering the plan.
Intent Matters
For a conviction under Section 120 IPC, the prosecution must prove the guilty party's intention to conceal the design to commit an imprisonable offence.
Legal Implications
Preventing Criminal Conspiracies
Section 120 IPC plays a crucial role in the prevention of criminal conspiracies. It allows the law enforcement agencies to act preemptively against those who plan to commit serious crimes.
Broad Scope
The section is not limited to any specific offence and can be applied to a wide range of crimes that are punishable with imprisonment. This wide scope makes it a versatile tool for law enforcement.
Deterrence Factor
Knowing that concealing the design itself is an offence can act as a deterrent against engaging in unlawful conspiracies.
Prosecution and Defense
The Burden of Proof
In cases under Section 120 IPC, the burden of proof lies with the prosecution to establish both the existence of the criminal design and the intention to conceal it.
Possible Defenses
Defenses in such cases may include lack of intention, lack of evidence for the design, or any other factors that can cast doubt on the guilt of the accused.
Conclusion
Section 120 of the IPC serves as a crucial provision in the legal framework of India. It helps in preventing criminal conspiracies from taking shape by penalizing the concealment of designs to commit imprisonable offences. In a society where the rule of law is paramount, such provisions are essential in maintaining order and justice.
Certainly, here are some external resources that provide additional information about Section 120 IPC:
Please note that these resources are external websites, and their content may be subject to change. Always verify the information from authoritative sources and consult legal experts if needed.
FAQs